Addressing Informal Cross-border Trade and Security in IGAD Region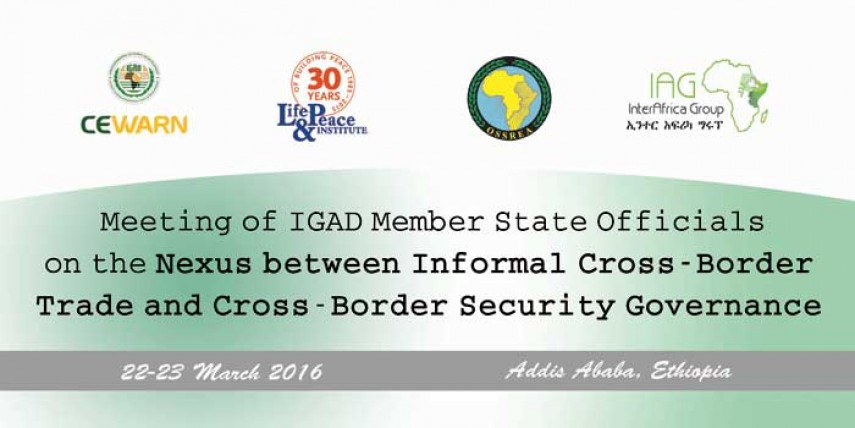 IGAD's Conflict Early Waming and Response Mechanism (CEWARN) will be hosting a meeting of IGAD Member State officials of Trade, Customs and Security on Addressing the nexus between Informal Cross-border Trade and Cross-border Security Governance in the /GAD region on 22-23 March 2016 in Addis Ababa.
The meeting's main aim is to deliberate on the dynamics of Informal Cross-border Trade and its correlation with Cross-border Security Governance in the IGAD region as well as to identify and deliberate on discernible policy gaps towards enhancing regional peace and security.
The meeting is part of an ongoing collaborative pilot policy initiative among CEWARN, the Life & Peace Institute (LPI), the Organization of Social Science Research for Eastern and Southem Africa (OSSREA) and the InterAfrica Group (IAG) that is aimed at fostering dialogue and collaborative engagement among communities, civil society, the academia and governments on peace and security policy issues in the Horn of Africa. The initiative's end goal is to stimulate regional policies that are evidence-based and sensitive to local dynamics and perspectives.
The 22-23 March meeting follows extensive knowledge harvest work done by the partner organizations in academic and civil society sectors on the correlation between informal crossborder trade and cross-border security governance in the IGAD region.