CEWARN supports the 8th Tegla Loroupe Karamoja Cluster Peace Race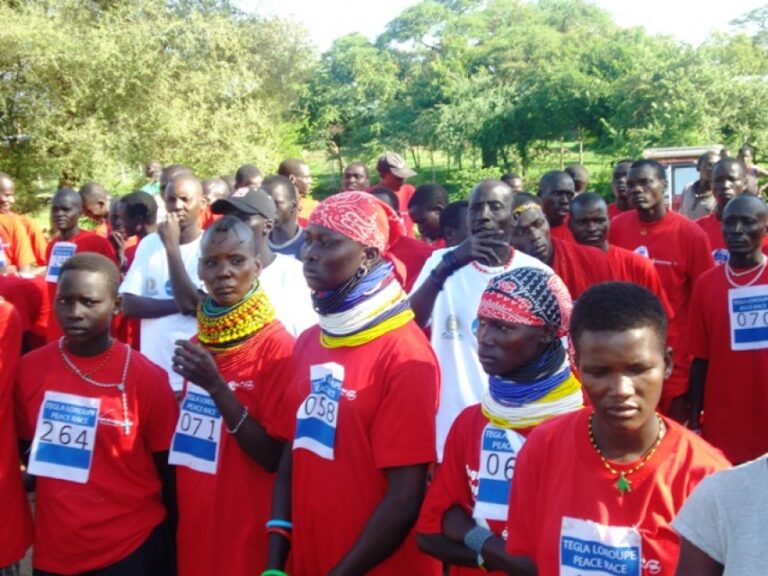 CEWARN supported and participated at the eighth annual Tegla Loroupe peace race for the Karamoja Cluster on 27-28 May 2011 in Moroto town, Uganda.
The peace race themed "Empowering and talents tapping for enhanced livelihood options, the path to peace," was part of annual cross-border peace sporting events organized by Tegla Loroupe Peace Foundation. The event brought together youth warriors and elders from pastoral communities in the cross-border areas of Kenya, Sudan and Uganda who engaged in a peace dialogue as well as a 10 km peace race.
The event also involved cultural shows including a play presented by reformed warriors as well as a symbolic 2 km race for organizers.
Those in attendance included provincial administration officials; representatives of national CEWERUs of Kenya and Uganda as well as high-level government officials including concerned Members of Parliament and Ministers from Kenya and Uganda. Representatives of governmental and non-governmental partners including from CEWARN and Common Market for Eastern and Southern Africa (COMESA) as well as the Deputy Secretary General of the East African Community (EAC) Hon. Beatrice Kiraso were also present.
CEWARN's support was directed towards facilitating the participation of youth and elders as well as district peace committees from target communities from Kenya and Uganda. CEWARN Field Monitors and Members of CEWARN District Peace Committees were actively involved in mobilization of participants.
The event was successful as an occasion for peace advocacy in the Karamoja Cluster. The use of sports as a unifying theme also made it particularly effective in mobilizing communities to join in a constructive and fun event.
The Tegla Loroupe Peace Foundation (TLPF) is founded and run by world renowned Kenyan marathon athlete and peace activist Dr. Amb. Tegla Loroupe.