The Steering Committee of CEWARN's Rapid Response Fund holds 4th regular meeting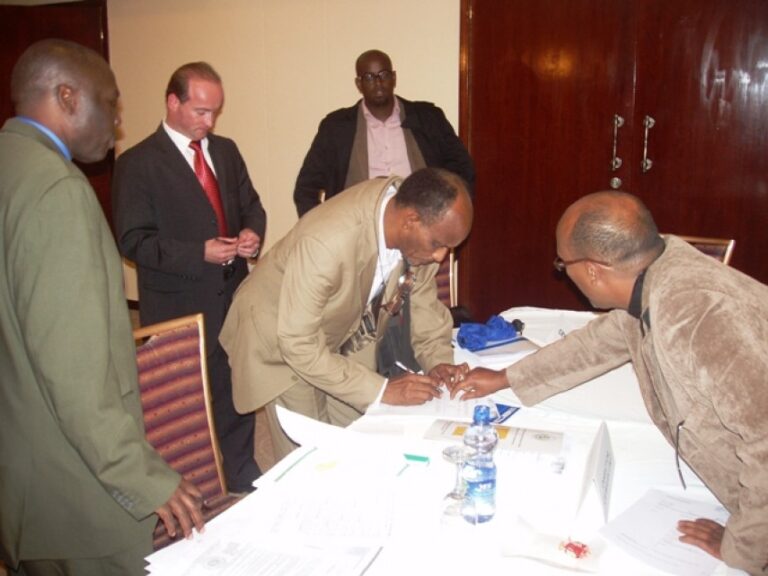 Steering Committee of the CEWARN Rapid Response Fund (RRF) held its fourth regular meeting on 24 June in Addis Ababa, Ethiopia.
The Steering Committee that oversees the regional facility, reviewed and approved for funding two projects proposed by the national Conflict Early Warning and Response Unit (CEWERU) of Uganda related to enhancing the role of youth and women in peace building in the Karamoja region of Uganda with a combined worth of USD 90,000.
The projects were considered pertinent and urgent in terms of addressing gaps in ongoing peace processes in the area.
Another key agenda of the meeting was the appraisal of ongoing RRF projects in Ethiopia, Kenya and Uganda and their impact in improving the peace and security situation in CEWARN's areas of reporting in these countries. Overall, it was found that the projects were effective in terms of facilitating timely interventions to forestall impending crises as well as in enhancing the capacity of the local and national structures of their CEWERUs.
CEWARN Director Dr. Martin Kimani Mbugua who presided over the meeting reminded representatives of development partners that their continued support is critical in sustaining these interventions.
The meeting also discussed the issue of fast tracking the approval process of RRF projects in order to ensure timeliness of response measures. Accordingly, the committee agreed to set up emergency funds at national levels in Member States.
Some of the key recommendations that came out of the meeting in terms of bridging gaps in CEWARN response initiatives include the need for a comprehensive peace process in Karamoja Cluster to deal with emerging peace and security challenges; the establishment and effective functioning of cross-border peace structures as well as enhanced focus on tangible and sustainable outcomes of RRF projects.
The meeting was concluded with election of new steering committee members that will take over from members comprising representatives of heads of national CEWERUs; CSOs and development partners who completed a two year term. The newly elected members of the Steering Committee of CEWARN's RRF are heads of national CEWERUs of Somalia, Sudan and Uganda; CSO representatives from Djibouti, Ethiopia and Kenya as well as representatives of the Austrian Development Agency (ADA) and government of Denmark.
The RRF was set up by CEWARN and its development partners in 2009 as an emergency basket fund in order to equip the CEWARN Mechanism with the necessary resources to support Member state response initiatives aimed at mitigating and preventing cross-border pastoral and related conflicts in its areas of reporting.