CEWARN holds second Ethio-Kenya Cross-border youth peace tournament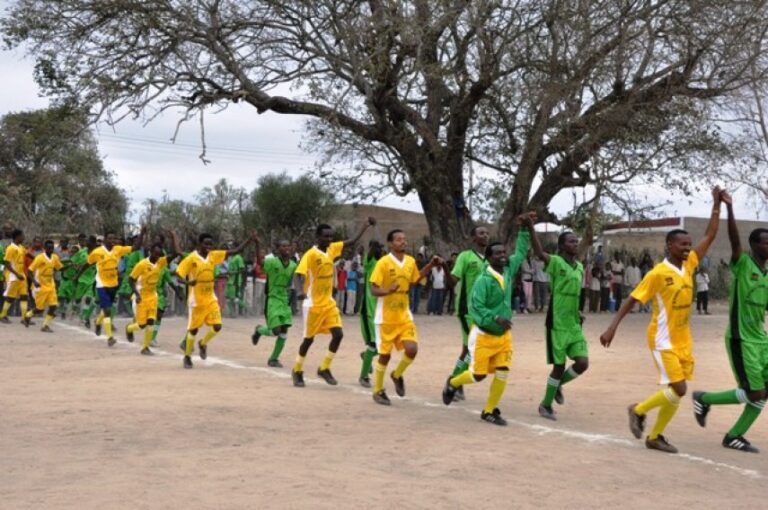 The Conflict Early Warning and Response Mechanism (CEWARN) of IGAD with the support of USAID/EA and Ethiopia-based private-sector partners, including Great Abyssinia and Ethiopian Airlines, conducted a cross-border sports tournament for youth from pastoral communities along the Ethiopia-Kenya border from 28 -31 July 2011 in Moyale Town, Ethiopia.
The overarching aim of the event was encapsulated in its motto: 'Play Sports, Live Peace.'
The second of its type, the tournament was anchored in the idea that sports, and the healthy competition that they engender, would serve as a unifying factor that ingrains a sense of fair-play and teamwork in its participants from ten adjoining districts along the Ethio-Kenya border.
The first round that was held in April 2010 involving youth from nine adjoining districts of the two countries with the theme 'Shoot to Score, not to kill,' had proven instrumental in promoting peaceful interaction among the concerned communities.
This year's tournament involved a soccer tournament, a women's 4km footrace, cultural events, as well as dialogues on specific challenges and existing peace agreements among Local Peace Committees (LPCs).
Participating districts from Ethiopia and Kenya included: Dillo, Dire, Miyo, Moyale-Oromia, Moyale-Somalia districts found the Oromia and Somali regions of Ethiopia as well as adjoining Kenyan districts of Chalbi, Marsabit, Moyale, Sololo and Wajir found in Eastern and North Eastern provinces of Kenya.
These districts are a part of CEWARN's areas of reporting in the Somali Cluster which covers south-eastern Ethiopia, north-eastern Kenya and adjoining areas in Somalia.
See link to related press release for further information