CEWARN Field Monitor Adan Abdullahi Bare receives award and recognition from Government of Kenya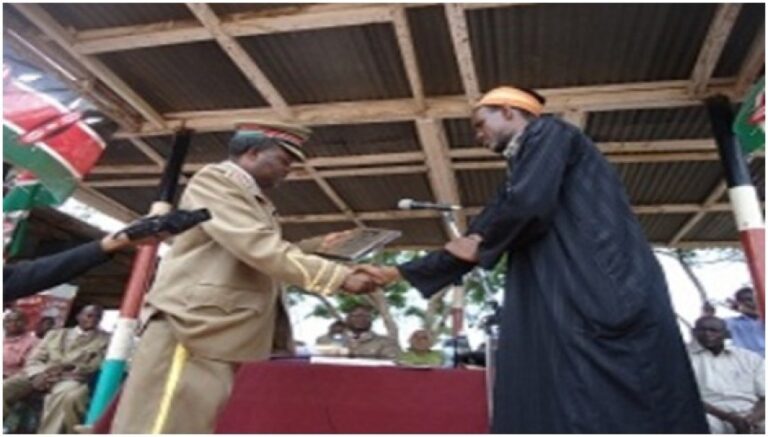 CEWARN Field Monitor for Wajir County of Kenya Adan Abdullahi Bare received an award and recognition from the Government of Kenya for his hard work in contribution to the promotion of peace in the country.
The Regional Commissioner of Upper North Eastern Region Mr. Wenslas Ongayo presented the award to him during Kenya's Independence Day celebrations on 12th December 2011.The award ceremonybrought together District Security Intelligence Committees (DSICs), peace actors and members of the public in Wajir County Headquarters.
Adan born on 12 December 1969 in Wajir County of Kenya is a conflict action researcher with the centre for Peace and Applied Research (CEPAR). He is also an active member of the Coalition for peace in Africa (COPA) and longest serving volunteer with Wajir peace and development agency (WPDA).
His notable achievements in his own words include significant contribution to formation of district peace committees and local peace committees in Wajir County as well as trauma healing and social reconciliation trainings for Wajir North, Madera West and Moyale District Peace committees at Moyale.
 In early 2009, Adan facilitated an advance conflict transformation course for 30 representatives from Somalia Civil societyorganisations in Hargessa, Somaliland.
 In May 2011, he also facilitated Trauma Healing and Social Reconciliation trainings for 270 participants from Benadir Administration and community groups in Mogadishu, Somalia as well as other trainings for Local Peace Committees from Gedo and Jubba regions of Somalia.
This is not the first time CEWARN Field Monitors have received recognition from Government of Kenya for their efforts and contribution to national and regional efforts to maintain and promote peace.
CEWARN Field Monitor Abdi Rahoy received national peace award in celebrations marking international peace day in Kenya on 21 September 20111 by the Minister of Internal Security, Prof. George Saitoti for his outstanding work in contributing to national and regional peace efforts.
EWARN Field Monitors for Karamoja Cluster side of Kenya, Mr. Renson Apakamoi CEWARN Field monitor for North and West Pokot districts and Mr. Alexander Losikiria, CEWARN field monitor for Turkana West District also received Head ofState Commendation from H.E the President of the Republic of Kenya Mwai Kibaki on 12 December 2010 for their contribution to peace building efforts in Kenya.