Launch of South Sudan's national Early Warning and Response Unit (CEWERU)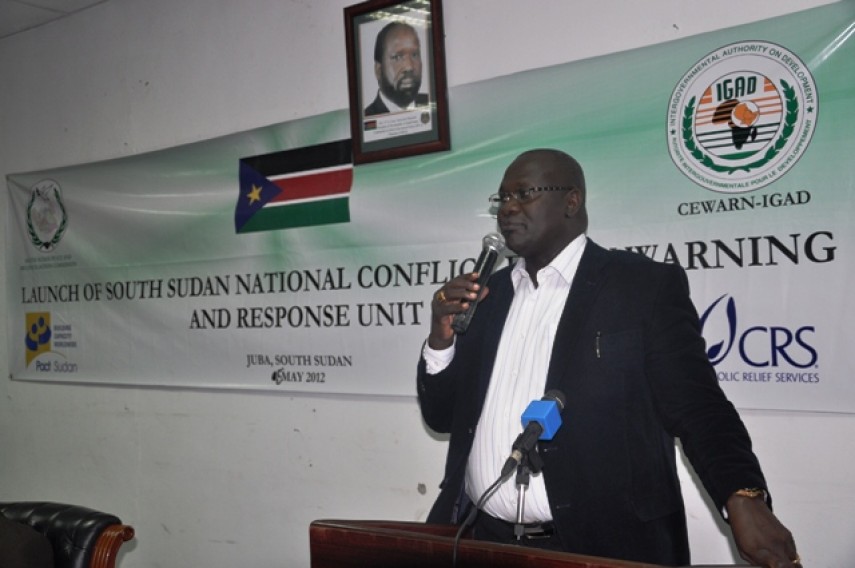 On May 5th, South Launch of South Sudan's national Early Warning and Response Unit (CEWERU)
On May 5th, South Sudan's Vice President, H.E. Dr. Riak Machar, formally launched a national Conflict Early Warning and Response Unit (CEWERU) committee directly linked to IGAD's Conflict Early Warning and Response Mechanism (CEWARN.) This historic step was taken with the leadership of the South Sudan Peace and Reconciliation Commission (SSPRC) which now takes up the mantle of the existing early warning system.
See press release for details
The system is designed to deepen the government's ability to respond proactively to risks of violent conflict. The national early warning system, known as CEWERS, has been operational in four states since 2009, supported by Catholic Relief Services (CRS) including in Eastern Equatoria state where CEWARN has been operating with a regional focus.
The official launch transfers ownership of the system to a high-level committee made up of government and response-ready NGOs. The system will also be mirrored on the state and county levels, and connected to the broader regional CEWARN mechanism.
The new South Sudan CEWERU comprises key government and non- government institutions working on peace, security and development. It is modeled after similar structures in Djibouti, Ethiopia, Kenya, Somalia, Sudan and Uganda that serve as important nodes in national and regional efforts to prevent and mitigate violent conflict.
H.E. Dr. Machar, presiding over the launch event, signaled the government's commitment to this effort. The Vice President who also keenly engaged with technical presentations from CEWERS and CEWARN described the importance of early warning as a 'whole of government' approach to governance. He pointed to the stark difference between the human and financial costs incurred in preventing conflict as opposed to trying to recover from it, and spoke passionately of the need to lean to the former.
The need for this approach is clear in South Sudan. As he put it, "South Sudan, which has come out a long-running civil war, continues to grapple with multiple internal and regional security challenges which necessitate a nation-wide capacity to anticipate, and act proactively to prevent violent conflicts."He also stressed the need for the mechanism to operate at county, state and federal levels with local structures empowered to undertake response measures.
The CEWARN Director,Dr. Martin Kimani, observed that the establishment of the national CEWERU was an important milestone in advancing CEWARN's engagement in South Sudan and the wider IGAD region. He recognized the transformative possibility that the South Sudan CEWERU presents to the region as it gets launched at a critical stage for the broader mechanism saying, "As CEWARN transitions into a new phase of operations in the post-2012 period, its operations are set to expand to wider geographic and thematic areas of national and regional relevance in South Sudan as in the rest of the IGAD Member states."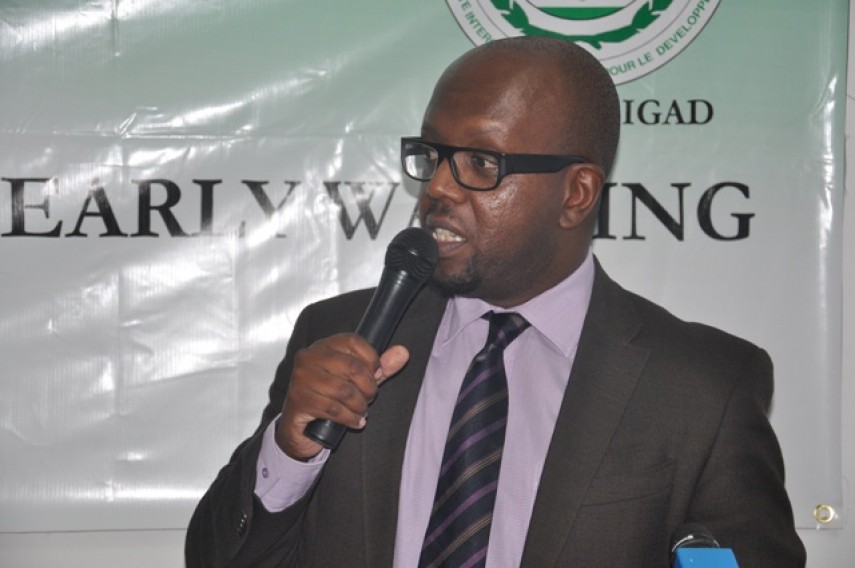 The launch event was attended by senior government officials and members of Parliament including the Ag Chairperson of SSPRC Mr. Peter Gwang Akicas well as UNMISS Chief of Staff Mr. Paul Egunsola, CRS Country Representative, Mr. Andrew Rosauer, donor representatives and members of national and international NGOs. The launch of the CEWERU is the latest step in integrating South Sudan into IGAD since it formally acceded to membership in December 2011.
The CEWARN Mechanism is a leading IGAD initiative in cross-border peace building as a way of promoting regional stability. CEWARN has operated since 2002 with an initial focus on cross-border pastoral and related conflicts along the Djibouti-Ethiopia, Ethiopia-Kenya-Somalia as well as Ethiopia-Kenya-South Sudan and Uganda borders. In South Sudan, CEWARN has been operating in North Kapoeta, South Kapoeta, Budi, Ikwotos and Narus counties of Eastern Equatoria State since 2009.
CEWARN is deep in the process of developing a new strategy. The member states have been clear about their desire to expand into different types of conflicts and to sharply extend the present areas of reporting. South Sudan joins this process as the newest but possibly the most transformative effort as reflected in the strong support of the CEWERU from the highest levels of government and the clear need for sustained peace if a prosperous and stable South Sudan is to be realized.
H.E. Dr. Machar spoke for the hopes of the region when he observed the need for government to "know what could be going wrong and needs attention," and the wisdom of looking to govern in a way that nips conflict risks "at the bud." With this launch, the IGAD region takes another important step in building institutions that are equal to the demands made of them in the region.