Hon. Janet Museveni to preside over a high-level meeting of IGAD Member states to launch a regional strategy on conflict early warning and response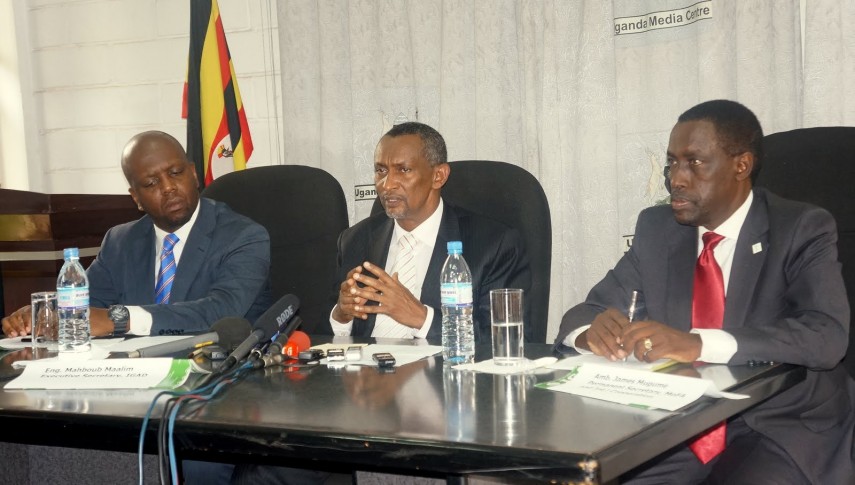 On 4 September, high-ranking officials of IGAD Member States will convene in Kampala's Munyonyo common wealth resort to launch a regional strategy on conflict early warning and response.The meeting that will be presided over by First Lady and Minister of Karamoja Affairs of the Republic of Uganda Hon. Janet Museveni will mark a significant expansion of the scope of operations of IGAD's Conflict Early warning and Response Mechanism (CEWARN).
It will also deepen the commitment by Member States on early warning information sharing as well as joint response actions in response to emerging threats of violent conflict.
The Executive Secretary of IGAD Eng. Mahboub Maalim made the announcement today (Thursday, 30 August 2012) at a press conference in Kampala to Uganda-based media houses. Permanent Secretary of Ministry of Foreign Affairs and International cooperation of the Republic of Uganda Amb. James Mugume and Director of CEWARN Dr. Martin Kimani Mbugua also presided over the press conference.
Eng. Maalim expressed IGAD's deep appreciation for the leadership displayed by Uganda and Her Excellency Hon. Janet Museveni in hosting and presiding over the launch. He said Uganda continues to display exemplary leadership in driving the peace and security agenda in the IGAD region recalling a decision made by the 45th Meeting of the IGAD Council of Ministers for Member States to champion various thematic areas.
Amb. James Mugume on his part reflected on ongoing efforts in dealing with security challenges in eastern Democratic Republic of Congo and the agenda of the summit of the International Conference on the Great Lakes Region (ICGLR) highlighting the need for a mechanism like CEWARN in informing peace efforts.
CEWARN Director Dr. Martin Kimani Mbugua stated that the launch is key to CEWARN's transformation into a more robust regional mechanism that uses data-driven insight to address a broad spectrum of violent conflicts – far beyond the mechanism's previous focus on cross-border pastoral and related conflicts.