IGAD Executive Secretary and H.E. Janet Museveni consult on regional issues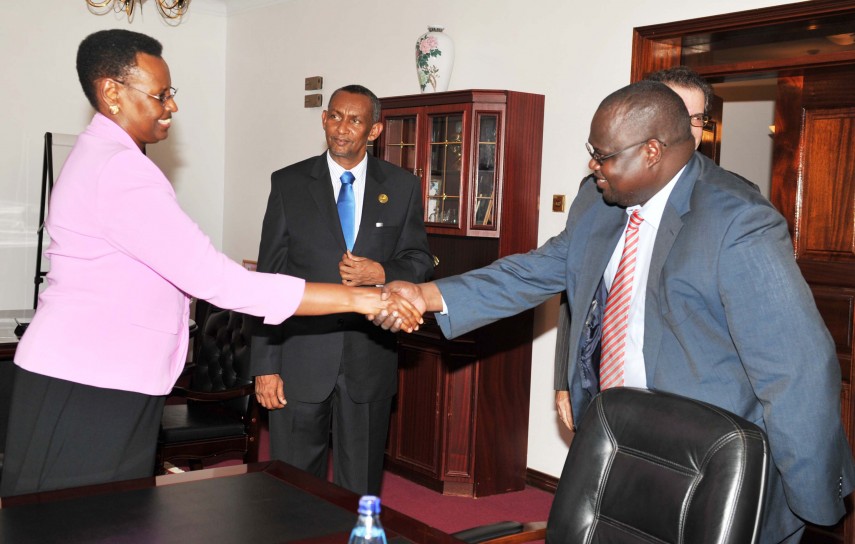 IGAD Executive Secretary Amb.(Eng.) Mahboub Maalim conducted an official mission to Kampala on 29 July 2014 where he held consultations with the First Lady and Minister of Karamoja Affairs of the Republic of Uganda H.E. Janet Museveni.
Amb. Maalim and the First Lady consulted on a number of issues including the progress in the implementation of the IGAD-led Drought Disaster Resilience and Sustainability Initiative (IDDRISI) as well as regional security concerns.
They also held discussions on follow up measures related to the Karamoja Cluster Affairs' Ministerial meeting held on 14 October 2013 in Kampala. Amb. Maalim thanked the First Lady for her unwavering support to IGAD and briefed her on ongoing engagements with World Bank for support to IDDRSI programs across the region including Uganda. In the same vein, he thanked her for her continued exemplary support to related programmes in Uganda.
Amb. Maalim also appraised the First Lady on the progress of the implementation of the resolutions of the Karamoja Ministerial meeting of 14 October 2014 and presented a proposal on the establishment of a Karamoja regional coordination unit based in Moroto, Uganda. He further proposed for the holding of a follow-up Ministerial Meeting later in the year.
The Karamoja Cluster Affairs' Ministerial Meeting of 14 October was co-hosted by the First Lady and Amb. Maalim last year to initiate a regional ministerial platform on harmonizing peace, security and development initiatives across the Karamoja Cluster that encompasses cross border areas of Ethiopia, Kenya, South Sudan and Uganda.
The First Lady expressed her commitment to support these initiatives and spoke of her keen interest to faciliate regional learning exchanges. In this regard, she indicated a plan to visit Isiolo Conservancy in Kenya and extended an invitation to local community leaders to visit the Karamoja region of Uganda.
Amb. Maalim was accompanied by other IGAD Officials including CEWARN Director Mr. Richard Barno; Dr. John Kabayo, Coordinator of IGAD Drought Resilience and Sustainability Initiative (IDDRSI), Dr. Solomon J. M. Munyua, Acting Director of IGAD Centre for Pastoral Areas and Livestock Development (ICPALD); and Mr. Alberto Vega GIZ advisor to IGAD.