CEWARN RRF Steering Committee meets to appraise cross-border early response projects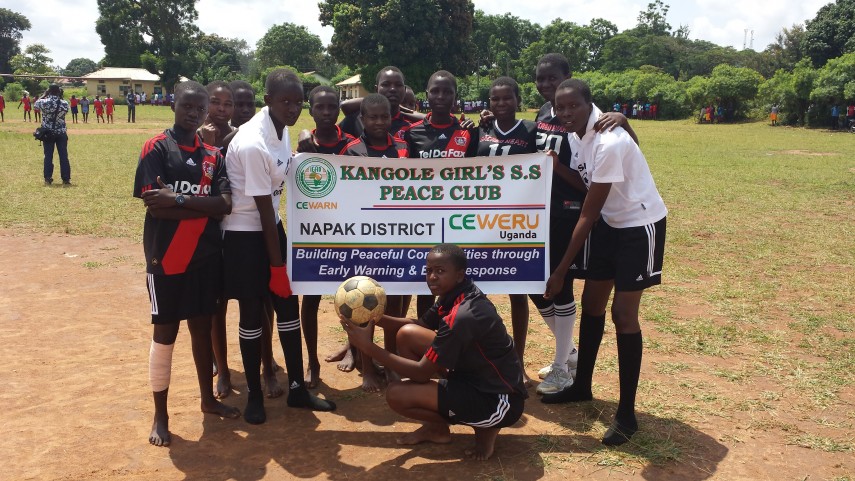 CEWARN convened the 8th regular meeting of the Steering Committee of the Rapid Response Fund (RRF) on 11 August 2014 in Djibouti. The meeting brought together representatives of the CEWARN regional office, heads of CEWARN's national conflict Early Warning and Response Units (CEWERUs) and Civil Society organisations from Djibouti, Ethiopia, Kenya, Somalia, South Sudan, Sudan and Uganda, to review progress in the implementation of ongoing response projects.
 Representatives of development partners that support the fund were also present at the meeting. The Rapid Response Fund (RRF) was set up in 2009 as a regional basket fund to support locally driven and timely response projects to contain the spread and escalation of violent conflicts along IGAD Member States' borders.
While the fund's initial focus has been on mitigation of cross-border pastoral and related conflicts, its use is set to expand to avert a wider-spectrum of security challenges experienced by Member States.
The meeting received an assessment report of ongoing RRF projects from the CEWARN Rapid Response Fund (RRF) Coordinator Mr. Yacob Chaka as well as representatives of CEWARN national units in these countries. The meeting also considered proposed rules and procedures for the Steering Committee's virtual meetings as well as fund raising plans.
RRF Success stories
The RRF is an innovative and optimal approach to conflict prevention and peace building in the IGAD region as it focuses on supporting home- grown solutions to conflicts and equipping local institutions for early action to avert violent conflicts. This is in line with current trends in global conflict Prevention Management and Resolution practice that emphasize that violent conflicts are most effectively solved at the closest point to where they are occurring.
By streamlining government and civil society-driven efforts at local, national and regional levels, the RRF also enables CEWARN to marry contemporary and Customary Conflict Prevention, Management and Resolution (CPMR) methods in its response initiatives.
Allocation of RRF monies is strictly project-based and funding covers broad areas of rapid response initiatives including support to dialogue among conflicting groups; emergency support; facilitation of joint access to resources; as well as capacity building and technical studies.
Two major categories of RRF projects are namely: urgent projects and regular projects. Urgent projects are worth a maximum of 10 thousand USD and can be accessed within 24hrs of submission of the request. In the case of regular projects that are worth 50,000 and beyond, the approval of the RRF Steering Committee, which is the highest regional decision-making body of the RRF, is required. The Steering Committee is comprised of representatives from national CEWERUs, the CEWARN Secretariat and development Partners. Regular projects also have an implementation time cycle that could stretch up to a year.
So far, the CEWARN RRF has supported 52 CPMR related projects across the region. Fifteen of these projects were focused on capacity building of local and national structures for response mainly through the provision of equipment, training and facilitation of study tours. The other twenty-six projects focused on Conflict Prevention, Management and Resolution (CPMR) projects ranging from peace dialogues to collaborative cross-border peace processes.
While four of the remaining projects were focused on technical studies that inform response decision making, the seven were conflict preventive projects. The latter included joint access to specific local resources as well as the development or expansion of jointly managed assets such as cross-border cattle markets. The total worth of the 52 projects amounts to 1.8 million USD.
CEWARN partners that have so far contributed to the RRF basket include the Austria Development Agency (ADA), Belgium, Denmark, Italy, Sweden and the UK. ADA and Sweden currently contribute the lion's share of available RRF funds.
Some of the most notable achievements of the RRF include enhanced technical and financial capacities of local actors in implementing response projects as well as relative peace enjoyed by a number of CEWARN areas of report due to timely response to conflict threats. This was most visible in CEWARN's areas of reporting along the Kenya-Uganda and the Ethiopia-Kenya-Somalia borders. Peace dialogues initiated with RRF funds have also proved instrumental in fostering peaceful-co-existence marked by cooperation, free mobility and resource sharing among neighboring communities.
The most significant challenge faced by the RRF is the varying levels of project management capacities at local and national levels including limitations in accountability for funds as well as project proposals that fall short of RRF project application standards. The fast changing dynamics and peace and security situation in the region also poses challenges in following through projects.