CEWARN Director Mr. Richard Barno briefs senior officials of the Republic of Kenya and South Sudan on CEWARN's operations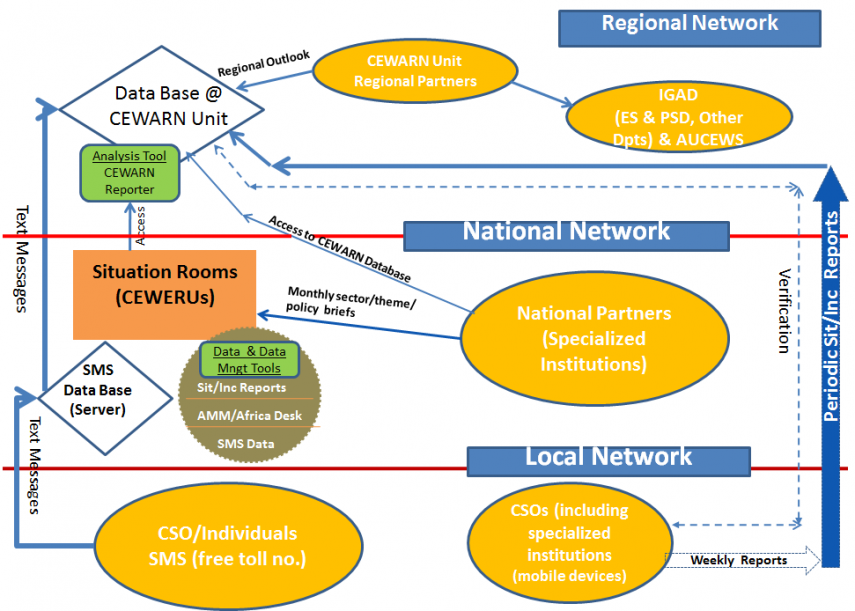 CEWARN Director Mr. Richard Barno met and briefed Ambassador Charles Manyang, Undersecretary of the Ministry of Foreign Affairs and International Cooperation of South Sudan on 25th July 2014 on CEWARN's operations as well as the mechanism's support to conflict prevention and mitigation work in South Sudan. Present during the briefing was Hon. Chuol Rambang, Chairperson of the South Sudan Peace and Reconciliation Commission and South Sudan CEWERU head.
Mr. Barno also met and held a similar briefing for H.E Eng. Karanja Kibicho, Principal Secretary, Ministry of Foreign Affairs and International Trade of Kenya on 1 August 2014.
In his briefings Mr. Barno indicated that during the current year 2014 CEWARN's primary focus has been the reinvention and strengthening of its data gathering, analysis and dissemination tools and processes including the re-engineering of the CEWARN data management software tool, the Reporter.
In this regard, in line with the mechanism's 2012-2019 Strategy Framework and subsequent consultative processes, CEWARN is envisaging a conflict early warning and response system infrastructure that will cover 15 conflict themes that are categorized along five major sectors. The new system just like the existing system will be underpinned by a close working relationship among CSOs and government institutions at all levels of the mechanism's operations, including data gathering, analysis, decision-making and response measures.
A preliminary model of the system has been presented to CEWARN's Technical Committee of Early Warning (TCEW) and has been approved for piloting. While the piloting process progresses through January 2015, the model will be presented for further guidance to CEWARN's highest policy organ –the Committee of Permanent Secretaries in October 2014.
Meanwhile, CEWARN has undertaken several capacity building measures in anticipation of the new system. These include: training of national CEWERUs and CEWARN Secretariat members on Media Monitoring tools. CEWARN has also facilitated the provision of GIS and various ICT equipments to its national Conflict Early Warning and Response Units (CEWERUs) in Somalia, Uganda and Ethiopia. Other capacity building measures extended to CEWERUs and the CEWARN Secretariat members include training on integrated Early Warning and Early Response systems as well as training on project cycle management.
In terms of CEWARN's support to conflict prevention and mitigation efforts in South Sudan, CEWARN continues to provide all-rounded technical and administrative support to the ongoing IGAD-led mediation process for South Sudan in Addis Ababa by assigning key staff members to work with the mediation on a full time basis.
CEWARN also continues to work closely with the national CEWERU and so far has supported the launch of the National Platform for Peace and Reconciliation, the Design of Peace and Reconciliation priorities and the convening of a Peace rally in Juba. Dr. Manyang acknowledged the positive role that CEWARN and the South Sudan CEWERU (the National Peace and Reconciliation Commission) under the Chairmanship of Hon. Chuol Rambang was playing to promote peace building and reconciliation in South Sudan and the region at large. He expressed his government's commitment to support the CEWARN mechanism.
Mr. Barno invited Ambassador Manyang and Eng. Kibicho to the forthcoming Meeting of CEWARN Committee of Permanent Secretaries in October.