CEWARN Director briefs IGAD's Drought Resilience Platform Steering Committee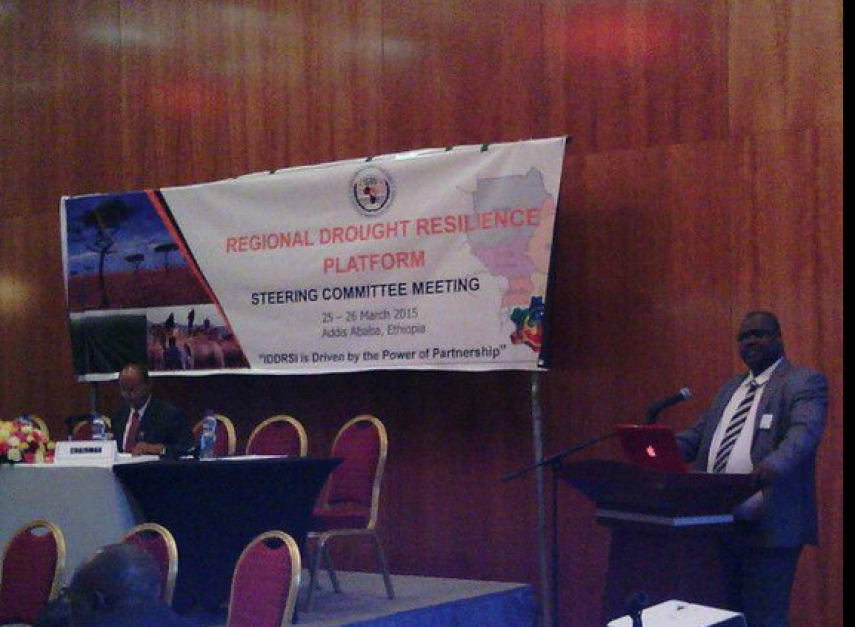 CEWARN Director Mr. Richard Barno delivered an update on CEWARN's activities to a Steering Committee meeting of the IGAD Drought Disaster Resilience and Sustainability Initiative (IDDRISI) that convened from 25-26 March 2015 in Addis Ababa. Mr. Barno's presentation covered CEWARN's activities over the past year and its strategic direction that hinges on emerging challenges of violent conflict in the region.
Among these challenges, Mr. Barno cited the politicization of administrative boundaries alongside the introduction of devolved system of governance; rise in Conflicts associated with loss of pastoral lands – due to commercial agriculture and rising populations; rise in conflicts related to extractive Minerals as well as the rise in election-related conflicts and the ability of conflicts to easily spill over national boundaries.
Mr. Barno cited some of the key initiatives CEWARN is undertaking to support Member States in addressing the underlying causes of conflicts in cross-border areas, namely: the establishment of a Resilience Innovation Hub in Partnership with the Canada-based IDRC as well as The Consulting House and ICGLR with focus on action oriented research.
He also cited an ongoing partnership with the Global Peace Foundation (GPF) and EAC to engage Private Sector Leaders in conflict prevention. In addition, Mr. Barno cited a pilot policy initiative that CEWARN is undertaking in collaboration with the Horn of Africa Programme of Life and Peace Initiative (LPI), the Organization for Social Science Research in Eastern and Southern Africa (OSSREA) and InterAfrica to leverage CEWARN's decade-long to identify policy gaps in cross border security governance and engage policy makers for policy-level response. The Steering Committee convened ahead of the fourth General Assembly Meeting of IGAD's Drought Disaster Resilience and Sustainability Initiative (IDDRISI) that met on on 27 March 2015.
The General Assembly comprises Ministers in charge of Agriculture and/or relevant line ministries from the seven Member States of IGAD as well as representatives of Development Partners, International NGOs and Civil society among others. The IGAD Drought Disaster Resilience and Sustainability Initiative is currently one of IGAD's priority programmes. It was launched in 2013 with the aim of ending drought emergencies in the Horn of Africa through integrated development and humanitarian assistance oriented responses.