Austrian government assumes lead partner role on CEWARN's Rapid Response Facility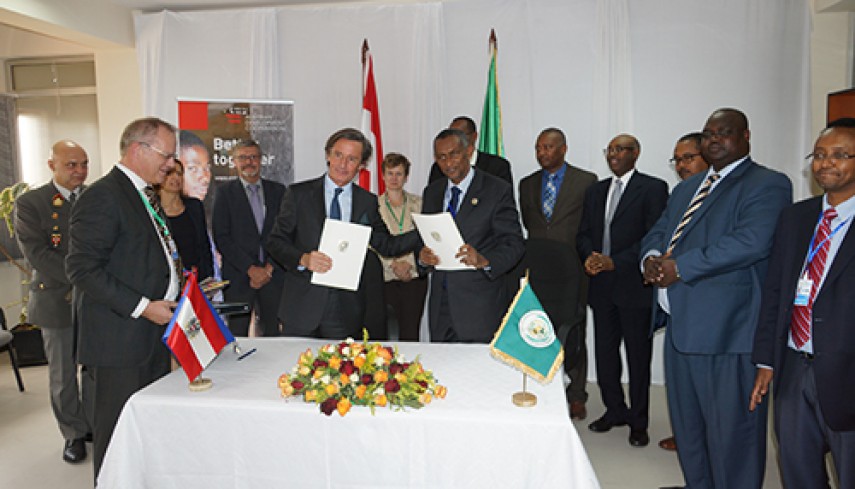 The Executive Secretary of the Intergovernmental Authority on Development (IGAD) Ambassador Mahboub Maalim, signed a Memorandum of Understanding (MoU) withDirector General for Development Cooperation-Federal Ministry for Europe, Integration and Foreign Affairs of the Republic of Austria Ambassador Peter Launsky, at IGAD office in Addis Ababa on 14 July 2015.
The MoU makes Austria a Lead Development Partner (LDP) for the Rapid Response Fund (RRF) and Early Warning and Response Interventions by IGAD's Conflict Early Warning And Response Mechanism (CEWARN).
Ambassador Maalim highlighted how important the MoU was for IGAD and thanked the Austrian government for the support provided in fostering peace. The signing ceremony was also preceded by briefings by IGAD officials on CEWARN's operations as well as IGAD's support in restoring peace and stability in Somalia and South Sudan.
IGAD's Conflict Early Warning and Response Mechanism (CEWARN) was set up in 2002 as a specialized unit to provide data-based conflict early warning information and analysis to government and non-government actors in IGAD Member States.
In 2009, CEWARN set up the Rapid Response Fund (RRF) as a multi-donors basket fund to support locally-driven crisis response projects that contain the spread and escalation of violent conflicts across the borders of Ethiopia-Djibouti; Ethiopia-Kenya-South Sudan-Uganda; as well as Ethiopia-Kenya-Somalia. Projects supported by the RRF range from short-term peace dialogues to modest development projects that provide peace dividends to communities affected by conflict.
In line with CEWARN's strategic aim of promoting proactive response to violent conflicts in the region, these projects are also intended to catalyze long-term structural and policy response to conflicts.