CEWARN-HIPSIR launch certificate course in Peace Studies and Conflict Resolution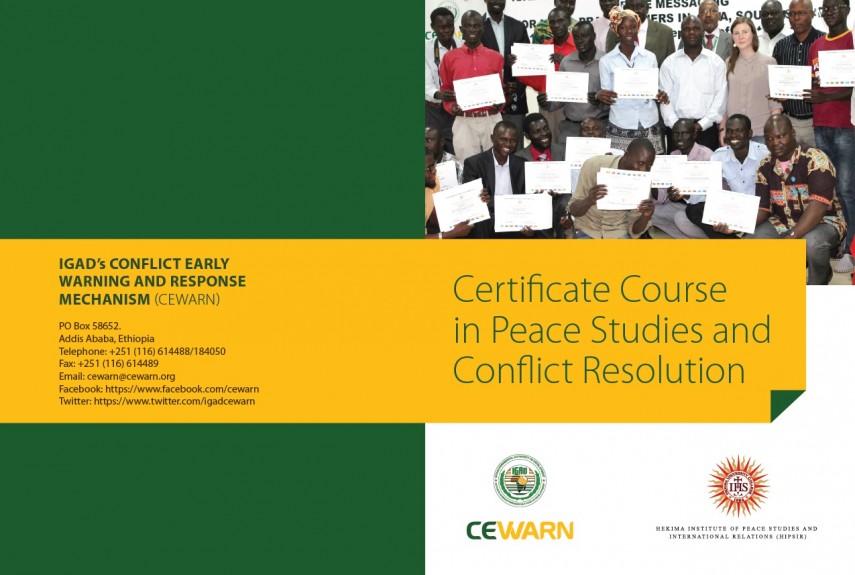 IGAD's Conflict Early Warning and Response Mechanism (CEWARN) in collaboration with the Nairobi-based Hekima Institute of Peace Studies and International Relations (HIPSIR) will launch a certificate course in Peace Studies and Conflict Resolution at the HIPSIR Campus in Nairobi on 8-17 December 2015.
The participants of the first round of training are CEWARN field monitors that have been serving as peace practitioners and early warning data collectors in CEWARN areas of reporting in Djibouti, Ethiopia, Kenya, South Sudan and Uganda.
The course that combines theory, research and practice, is intended to enable participants to critically reflect on their practice, be challenged by emerging theories, and develop solid plans for strengthening their practice within their communities.
The course comprises modules on: Conflict Analysis: Understanding Contemporary Conflict and Violence; Strategies and Frameworks of Breaking Cyles of Violence; Community-based trauma healing; Fundamentals in Designing and Facilitating training as well as 'Researching our own Practice.'
Refer to press release and course brochure attached.