Building social cohesion and peace in Ethiopia-kenya borderlands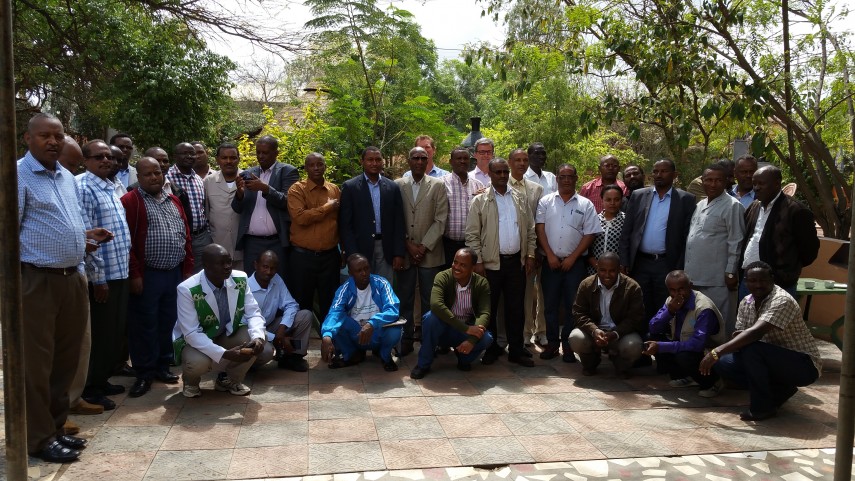 CEWARN through Ag. Director Mr. Camlus Omogo and Response Coordinator Mr. Yacob Chaka took part in a two day consultation in Moyale Town, Ethiopia on 11-12 April 2016 alongside representatives of the Ministry of Federal and Pastoral Development Affairs as well as United National Country Team (UNCT) for Ethiopia and community representatives from Borena and Liben zones of Ethiopia as well as Marsabet county of Kenya.
The consultations were intended to inform a cross-border and area-based development programme for these Ethiopia-kenya borderland areas with the aim of reducing conflict, strengthening social cohesion and bringing sustainable peace and development in the region.
The programme is based on the initiative announced in October 2014 by the UN Secretary General, IGAD Council of Ministers, and the World Bank President, which was aimed at boosting economic growth, reducing poverty and promoting business activities in the Horn of Africa through cross-border cooperation. The Ethiopian and Kenyan Heads of State – the Prime Minister of Ethiopia H.E. Hailemariam Dessalegn and Kenyan President H.E. Uhuru Kenyatta officially launched the initiative in December 2015 in Moyale town.
The key aims of the cooperation include creating opportunities for (a) trade, investment and tourism; (b) effective management of natural resources; (c) infrastructure development; (d) facilitation of safe cross-border movement of people; as well as (e) enhancing sustainable peace and development.
The programme will entail use of participatory action research; application of GIS to map potential resources as well as creation of alternative livelihood projects to enhance communal resilience and to promote peace along these border areas. The consultations were presided over by State Minister for Ministry of Federal and Pastoral Development Affairs Mr. Kaydaki Gezahegn.