CEWARN team confers with Somali senior officials, early warning data collectors in Mogadishu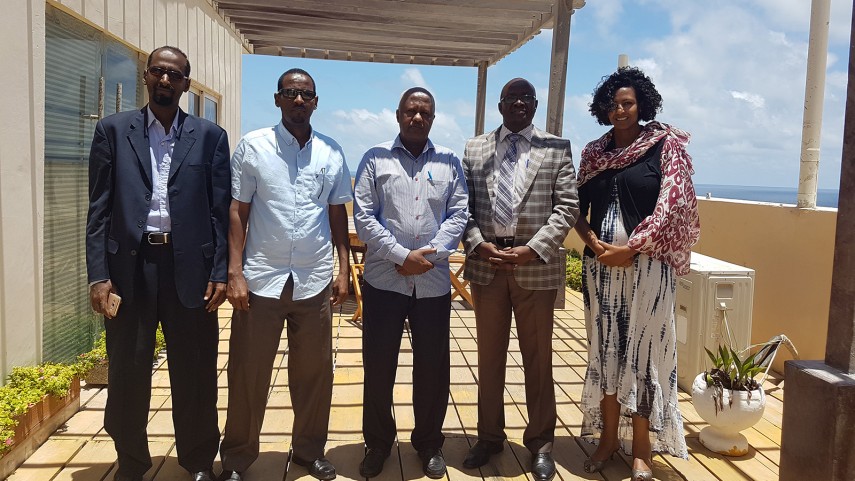 CEWARN Director Mr. Camlus Omogo and team held a meeting with the Federal Republic of Somalia Foreign Affairs Permanent Secretary Mr. Ali Mohamed Ali, on 21 March 2017 and updated him on the implementation of CEWARN Strategy including the status of the new data collection and analysis system specifically on the progress with piloting the system in Somalia. Somalia is one of the three IGAD Member States piloting the new system.
The other two piloting Member States are Sudan and Uganda. This meeting was part of CEWARN initiative to reaffirm as well as enhance the political commitments and actions of Member States that was made during the Committee of Permanent Secretaries (CPS) Meeting held in December 2014 with regard to operationalizing the new system. Also in attendance were Mr Abdilatif Ali (Somalia CEWERU Head) as well as Mr Osman Moallim (Head of formed Somalia NRI and current CEWERU FAU).
During the meeting Mr. Ali Mohamed Ali reiterated the Federal Republic of Somalia commitment to ensuring success of the piloting phase as well as the full implementation of the system. He further reassured CEWARN of the government's continued assistance to strengthen the CEWERU. He indicated his Ministry's intention to avail additional officers to improve the functionality of the Situation Room and to also avail himself to Somalia CEWERU in support of resource mobilization endeavors.
He pointed out his commitment to facilitate presentation of CEWERU's plan to the Council towards consideration for budgetary allocation. Mr Ali reiterated Somalia special situation and the need for more support from CEWARN to enable the CEWERU catch up with other more progressive CEWERUs. The CEWARN team also had a meeting with the CSOs supporting data collection, heard their challenges and jointly agreed on how to address the challenges to ensure steady inflow of data.