IGAD's Conflict Early Warning Mechanism marks 15years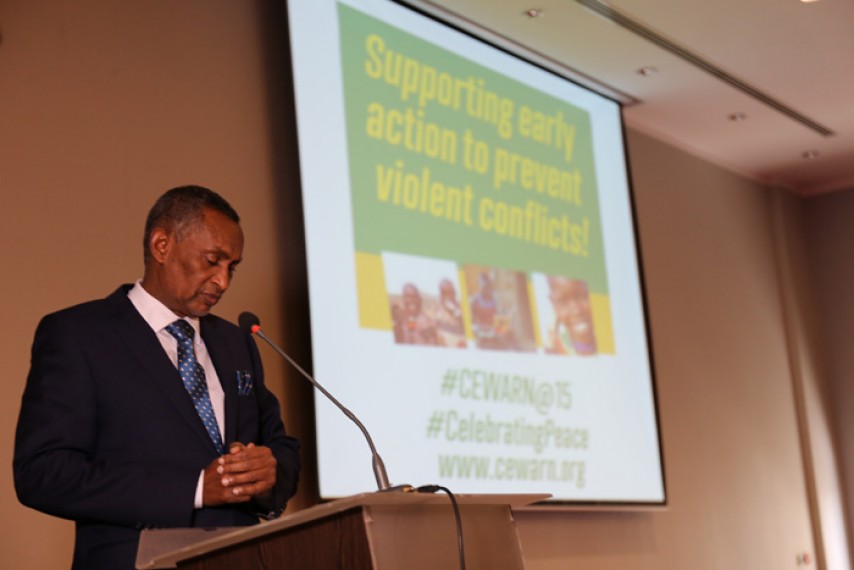 The IGAD Executive Secretary Amb(Eng.) Mahboub Maalim and CEWARN Director Mr. Camlus Omogo hosted a special event at the Radisson Blu in Nairobi on 19 December 2017 to mark 15th Anniversary of establishment of CEWARN and the launch of a documentary film showcasing its work.
 The anniversary and film launch event was well attended with over 100 audience drawn from Officials representing IGAD Member States as well as the African Union, the United Nations, private sector partners, academic institutions, media agencies and development partners.
Ambassador Purity Muhindi-Director, of Africa and the African Union at the Kenyan Ministry of Foreign Affairs delivered opening remarks as a guest of honor joined by Amb. Sahle-work Zewde, Director General of the United Nations Office Nairobi and Amb. Martin Kimani, Special envoy and head of National Counter Terrorism Center of the Republic of Kenya as well as Mr. Patrick Wilson, Deputy Mission Director for Regional Integration and Support Services of USAID/EA ,and Ambassador Frederic Gateretse-Ngoga representing the African Union Commission among others.
 In his welcoming remarks, Ambassador Maalim stated, as the IGAD region is faced with increasingly complex security challenges, there is need for a much stronger emphasis on conflict prevention efforts in the region and support to institutions like CEWARN.
He lamented the long-standing inclination among governments worldwide and the international community on greater focus and investments on humanitarian and military solutions to violent conflicts and crises.
During the event, CEWARN launched a 29-minute documentary film titled: " Security in a decade and beyond" that was produced in several locations in Addis Ababa, Nairobi and Kampala as well as five borderland areas of the IGAD region across Djibouti, Ethiopia, Kenya and Uganda.
The film depicts the region's diverse political, socio-economic and cultural contexts as well as how communities are directly impacted by CEWARN's early warning and response work. 
The event was hosted with financial contribution from partners including GIZ.