CEWARN-HEKEMA receive 3rd co-hort of Peace Studies and Conflict Resolution course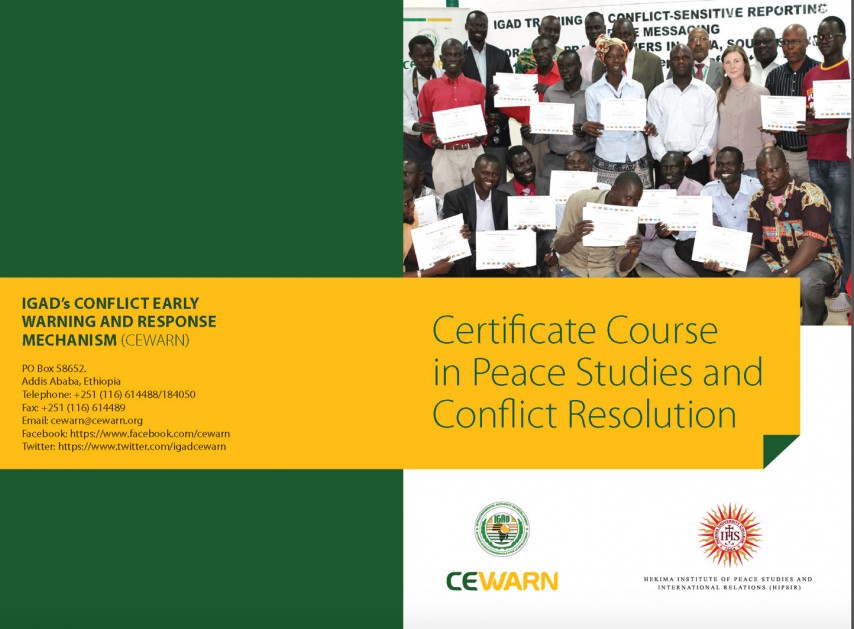 The CEWARN Unit in collaboration with the HEKIMA Institute of Peace Studies and International Relations (HIPSIR) is running a certificate course in Peace Studies and Conflict Resolution that combines theory, research and practice.
Third time running, the programme that was launched on 13rd November with an intake of 45 students is an intense 12-week course that is organised in three different parts. The first part of the course consists of a 4-6 weeks online interaction between the students and the Lead Facilitator followed by an in-resident 12-day intensive workshop at the HIPSIR campus in Nairobi and a post-training research and writing that students undertake with online consultation with the Lead Facilitator.
The main modules covered include: Conflict Analysis: Understanding Contemporary Conflict and Violence; Strategies and Frameworks of Breaking Cycles of Violence; Community Based Trauma Healing; Fundamentals in Designing and Facilitating Training; and Researching our own Practice.
The course is designed for CEWARN Field Monitors and individuals working in the area of conflict prevention and resolution with the aim of transforming them into CEWARN Facilitator Trainers equipped and readily deployable by IGAD and Member States on demand basis to support peace negotiations; communal conflict mapping; participatory development of peace dividend projects; and participatory evaluation and learning around on-the-ground projects.
The programme targets practitioners who:
a) work or live in situations of conflict and, therefore, need time to assess and reflect on their situations and peace practices through a rigorous academic experience; b) need an opportunity to explore and update their knowledge, skill, attitudes and strategies in Conflict Early Warning and Early Response (EWER) and peace building; and c) develop new tools and new strategies of breaking cycles of violence through community based training and trauma-informed peacebuilding.
The training encourages critical reflection, peer-to-peer exchange and strengthening of practical skills in community based conflict resolution work, facilitation of community based trauma healing work and conducting community based training in conflict resolution.
To qualify for the award of the Certificate in Peace Studies and Conflict Resolution, a student must complete all the course requirements including: completing the pre-survey form; drafting a case study from their context; attending all class sessions and field visits; active participation in class; completing all assignments and submitting the final version of the Reflection Paper.