CEWARN commissions 17 conflict mitigation projects through the Rapid Response Fund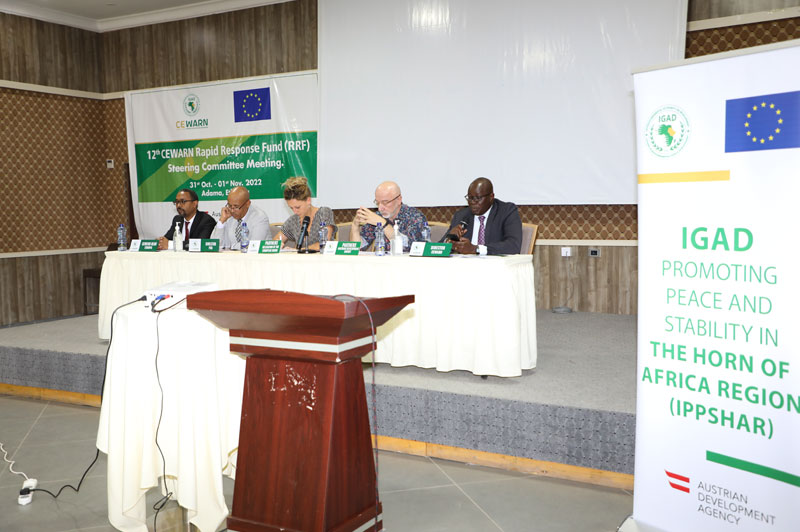 IGAD's Conflict Early Warning and Response Mechanism (CEWARN) hosted its second bi-annual Rapid Response Fund Steering Committee Meeting in Adama town in Ethiopia on 31 October 2022. The meeting brought together heads of national Conflict Early Warning and Response Units (CEWERUs), civil society organizations and development partners.
The main agenda of the 12th RRF Steering Committee Meeting  was to review the status of on-going rapid response projects implemented by civil society organizations in Djibouti, Ethiopia, Kenya, Somalia, South Sudan and Uganda. In addition, national CEWERU heads presented status report of on-going projects to the meeting, highlighting challenges and lessons learnt in their respective member states.
Subsequently, the Rapid Response Fund (RRF) Steering Committee approved a second set of 17 regular project proposals worth Euro 563,000 from across all Member States. The areas of focus of the response projects that will receive RRF funding includes peacebuilding, mediation, strengthening existing peace structures, women and youth inclusion in peace processes as well as facilitation of equitable resource sharing. These projects are expected to end by March 2023.
The Steering committee stressed on the importance of visibility of response projects and recommended that implementing agencies utilize all available communications channels to ensure better visibility of projects. Joint field visits to project sites organized by the  CEWARN Unit, national CEWERUs as well as development partners are planned for mid-November and December 2022.
The RRF is a basket fund established to support conflict prevention, management and resolution (CPMR) efforts in Member States as well as to support response capacity of government and non-government structures at national and sub-national levels.
The principal CEWARN partners that contribute to the Rapid Response Fund (RRF) are Austrian Development Agency (ADA), the governments of Netherlands and Sweden as well as the European Union through the IGAD Promoting Peace and Stability in the Horn of Africa Region (IPPSHAR) program.